Communique 04: A conversation with Dele Momodu
In this interview, Dele Momodu talks about the early days of Ovation, how he raised funding, and what he thinks about the media business in Nigeria.
This is a monthly newsletter about the media industry in Nigeria, you can subscribe here so you don't miss any edition:
When I walk into Dele Momodu's home office, he's in the middle of a broadcast with his phone on a stand before him. The white fluorescence of a ring light bounces off his face, illuminating the wall of books behind him. I find out later that this is part of his company, Ovation's new media strategy. 24 years after launching the magazine (and media company), he has learned that adaptation is the only thing that truly matters in the media business. "Embrace whatever it takes to reach your audience" is a mantra he lives by. Today, he is embracing the power of the Internet and mobile phone technology to reach his millions of online followers.
This is a long way away from the early days of his picture-heavy magazine that covers the life of the rich and famous, a magazine he started while in exile in 1996. "There were too many variables. I couldn't come to Nigeria to look after the business. Meanwhile, it is our biggest market. And as they say, another man's eyes can never be as good as your own. But we had no choice. We had to take the kamikaze plunge," he says.
Unlike many of his peers, Momodu realised early that the Internet would change how people consume and interact with media. "A lot of my contemporaries went to sleep when social media came. They were underrating it, saying 'Nothing will replace paper' but something has replaced paper."
When I ask him how the Internet and social media have affected his business, he replies that it has been positive. "For some, it has killed their businesses because they didn't react fast enough. I reacted, I responded, and I joined the race. And trust me, today, when we are talking about the [most popular handles] on social media, Dele Momodu Ovation is one of them. 1.2 million followers on Twitter (as at the time of the interview) and I'm sure in the next couple of days, it will hit 1.3 million (it has). That's not a joke for a 60-year-old man, and I do it myself. You can see I do everything myself, nobody is handling my page. Nobody ever touches my page. I do everything from here." He motions to the large, crowded desk separating us. "You can see all my gadgets. Sometimes I DJ myself. It's about your ability to adapt to every new situation and I'm very excited about it."
Sitting high on the wall to my right is a collage of his pictures with the rich, famous, and powerful. I spot an old photo of a young Bola Ahmed Tinubu standing beside him; in it, I imagine they are young idealists in the U.K. waiting to return home to Nigeria to begin life as we now know it. In other photos, he is smiling with Paul Kagame, Aliko Dangote, Mike Adenuga, Bill Clinton, and Emir Lamido Sanusi.
"My access is my asset. The reason Ovation is hot is that we have access to everybody. Dr Mike Adenuga, Alhaji Aliko Dangote, Femi Otedola, if you check my phone you'll see we were chatting this morning. I have access to virtually everybody. We've built enough credibility for anyone I want to reach to associate with us. The brand (Ovation) is worth millions of dollars, and we've built it for nearly 25 years."
How has he been able to maintain these relationships over the years? "I'm loyal to my friends," he says. "In the days of tribulations, they will find me standing behind or beside them. I will be there for them. When everybody deserts them, I will be there for them. No matter the situation, I will not prejudge. Because I have been a victim of misjudgment myself. When you have been a victim of something you will understand how he feels."
I notice that when talking about Ovation, he switches pronouns often, even within sentences. In some places, he describes it as 'we', a corporate brand; in other places, he personalises it. "What I've done is to build a double-brand -- Dele Momodu Ovation. That's my strategy. Most people say 'separate your personal brand from your corporate brand'. That's the theory. But I like to go against traditional theories," he says.
The early days of Ovation
I ask him what was going through his mind in the weeks leading up to the launch of Ovation in 1996. He likens the process to childbirth. "Starting any new business is always like delivering a baby," he says. "You've been pregnant with ideas, expectations, and [questions about funding]. You're wondering what the first edition will look like. You're wondering if your baby will have any disability. So, you're [full of questions], but no answers, because of the unpredictable nature of the media. I had absolute faith in our ability to deliver a good magazine. What I wasn't sure about was sustainability."
He had a business plan, he says, one that required £150,000 but he found it difficult to raise the funds. "I went to my bank, the National Westminster Bank, and the manager told me I had no record of doing business in the UK. I had no credit history, and I was not creditworthy at that stage. She told me pointedly that she won't be able to give us any loan." However, the bank manager agreed to give him a £5,000 overdraft. That was nowhere near sufficient.
How did he get enough money to start? The bulk of it came from his uncle, Ezekiel Fatoye, who "scraped his savings to send us the first £10,000. We also sold a few things." He adds that some of his friends contributed. "I didn't have the funding I required, but I'm happy I didn't have it. If I had that money, it would have spoilt me. I would have blown it. I would not have known how to micromanage like I do today," he says.
Momodu decided that Ovation had to go big with its first edition. "You must start every publication with a bang. If you don't get that bang from day one, you may never get it again."
On the cover of the maiden edition was Egyptian billionaire, Mohammed Al-Fayed, one of Africa's richest men. "We wrote a beautiful story titled 'The African King at Harrods and other billionaires'. He was so impressed when we sent it to him. He sent us bottles of wine, champagne, chocolates, everything. We knew that it was a good beginning. It re-energised us for the next edition."
The second edition had Seal (Henry Olusegun Adeola Samuel) on the cover. He says, "At that time, most people didn't know Seal was Nigerian. They thought he was Brazilian or Jamaican. We spoke exclusively to his mom who was still alive [and] in Nigeria. That story made us a global brand. From the second edition, the highest circulating magazines in the world carried Ovation. They took our permission to reproduce the story. We had the National Enquirer, which was the highest circulating magazine in the US. We had The Globe in the US, we had The Mirror in London, they all carried it. It was like an advert for us. They wanted to pay me and I said no, money was not the issue for me. As long as you say 'culled from Ovation International', I'm okay."
Unexplored spaces and the paradox of new media
If he were to start Ovation today, Momodu says he would never attempt to do a monthly magazine. "At the very best, I would do it quarterly, not even bi-monthly. Because these days, the magazine business is shrinking, readership is shrinking, advert revenue is shrinking, distribution is shrinking. An average vendor is no longer willing to stand in the sun or the rain just to sell a few copies of magazines and make a pittance. The proliferation of social media has made the media an endangered species." For these reasons, he says he would start it online and then "go for volume", focusing on audiovisual formats.
I interject. "Looking at how many more platforms are now available and how much easier it is, compared to then, to startup a publication. How would you stand out?"
He replies, "Always, in any business, not just media, be original. There's something somewhere that someone needs that is not available. People say there's nothing new under the sun. There's plenty new under the sun. There's so much to do. For example, and I'm just using this example, people say Ovation is a luxury magazine, it caters only to the rich, it doesn't care about the poor. Well, somebody can start a poverty magazine and all you do there is publish poor people. Do you know it might sell? The charities might buy into it to advertise. Nobody has considered it. I wish I had free money to play with, I will try it. And I will call it 'Poverty Magazine'. It will shock you, it might sell more than Ovation." He laughs.
I ask him if this means there are many areas people are not exploring. "Oh, there are many. Now agriculture is the next big thing, you can do a magazine on agriculture," he says. This is something I've written about in the past, niche publishing. However, something else that Momodu mentions during our conversation highlights the paradox of the media business in Nigeria, especially with new media. "Most of your clients want volume. If you have Globacom, it wants more people to buy more data and airtime. MTN wants the same. 9Mobile wants the same. They want volume, you must be able to deliver it."
Read: Stears's $600k war chest (The 4 waves of digital publishing in Nigeria)
While there are multiple unexplored spaces, media companies must face the following realities: Nigeria is a poor country and for most members of the audience, paying for media content does not rank high on their scale of preference, especially if the content is undifferentiated. Next, for media companies to consistently produce differentiated content, they require a level of investment that is just not readily available. They also require most of their audiences to have considerable disposable income. Last, advertising remains the major source of revenue and the companies that are most ready to spend on advertising require volume. What this means is that media companies that want to play in unexplored spaces cannot do so because they will not survive long enough to prove their concept.
Not enough businessmen in the media
You are more likely to find a media company run by a journalist than a media company run by a trained/seasoned businessman. I put forward to Dele Momodu that one of the biggest challenges of the media business in Nigeria is that there aren't enough good businessmen. "There may be great journalists and great writers. But businessmen, I don't think we have enough," I say. He agrees.
"Our biggest undoing is that journalists fail to recognise that journalism, or media, is a business," he says. "We treat it as if it's something anybody can run. You will see us making ourselves managing directors. Even if you're an MD, you need an executive director in [the accounting department]. You need an executive director in marketing, you need an executive director in production. If I can afford it today, I'll get anyone from any part of the world to come and run Ovation for me. And that's the only way I'll be able to sell my shares. I'm holding on to almost 70% of shares, I have other people who have shares in the company. The time has come for us to enjoy our sweat. But the only way we're able to do that is if we go public or do private placements, which is what I prefer, anyway. That way, we can get like minds who understand the nature of the business and are people who are not desperate for profit. They want the brand to survive, and part of their dividend is knowing that they helped build a successful media outlet."
As our conversation draws to a close, I'm curious to hear his thoughts about how the many patches of military interruption affected Nigeria's democracy, the audacity of journalists, the kinds of stories that they can pursue, how they can pursue those stories, and the development of the media business. (There have been 7 successful military coups in Nigeria's 60-year history.)
"Naturally, [it came with] loads of frustration," he replies. "If you take the Concord press owned by Chief [MKO] Abiola, for example. They shut it down. In the same premises, he had Wonder Bakeries that was selling Wonder Loaf. They shut it down, and it never recovered. All the machines rot. The Punch suffered the same fate at some point. There were other newspapers shut down. Journalists were killed. Some were maimed. It affected the business."
Read: The cost of good journalism in Nigeria
"These days, people find it very difficult to write what I call dangerous stories. People are afraid. Nobody wants to sleep in prison. I slept in prison. I was in exile. I could have been killed. Anything could have happened. We didn't have social media. Now you can hide behind your telephone and abuse the government. In our own time, we had to face bullets."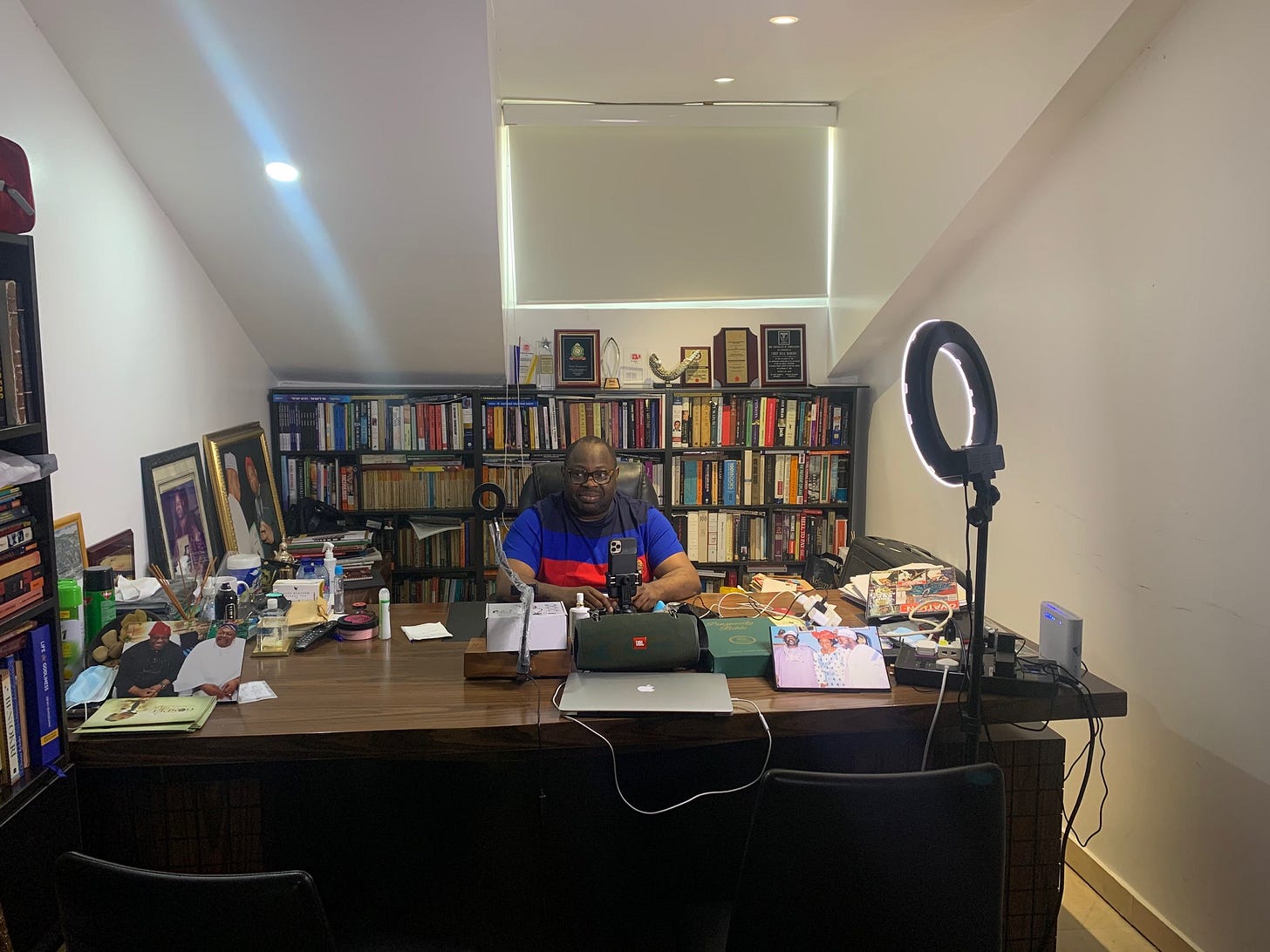 Next, I ask him about the biggest challenges he has faced as a media entrepreneur in Nigeria. "Number one is always funding. Media is a casino. I call it the ultimate casino. It gulps a lot of money. I can spend £100,000 this month and I'm not sure I will recoup £20,000 out of it. No matter how much money you have, it will evaporate.
"I've also learned that the media in Nigeria is an abnormal business. If I used the conventional way of doing business, Ovation will not survive. Many magazines have come to publish like Ovation in Nigeria and never worked. Because they were using conventional styles. OK! came to Nigeria, it didn't survive. And these were the magazines we were copying from England. Someone bought the franchise of Hello! magazine, which for me is like the ultimate magazine I love, it still failed in Nigeria. It tells you that Ovation must have employed an unusual method. Our modus operandi has differed from day one, that we must give it whatever it takes and make sure it survives."
I end our conversation by asking him what he has learned from covering Nigeria's 1% over the years. He says, "A lot of our big men, distinguished personalities, hardly write their biographies. Chief [Antonio Deinde] Fernandez died without a biography. If there is any major story on him today, it's from Ovation. Chief Bode Akindele wrote a biography, but I doubt many people saw it. However, they remember that he was on the cover of Ovation two or three times. Chief Harry Ayoade Akande, we call him 'the Chicago billionaire', featured on our cover. It's easier to read a magazine than read a book on a continent like Africa where there is really no reading culture. And because people also like pictures, in looking at pictures, they might stumble on the story. That's part of our strategy. For me, [documenting] the lifestyle of the rich and famous has been very productive."
If you enjoyed this, please don't forget to share and tell other people about Communiqué.